Your Preferred Lancaster, PA Plumbers
Unparalleled Service, Quality and Reliability
---
At Graybill Service Group, we are dedicated to providing superior customer service in every aspect of our plumbing, AC, and heating system services. We understand the importance of staying up-to-date with the latest technological advancements in the industry, which is why we continuously invest in cutting-edge equipment and innovative solutions. Our knowledgeable team of experts is well-versed in the most advanced techniques and methodologies, ensuring efficient and effective service delivery. Moreover, we believe that exceptional service should be accessible to all, which is why we offer competitive pricing and financing options without compromising on quality. With Graybill Service Group, you can trust that your plumbing, HVAC, and filtration needs are met with the utmost care, expertise, and affordability.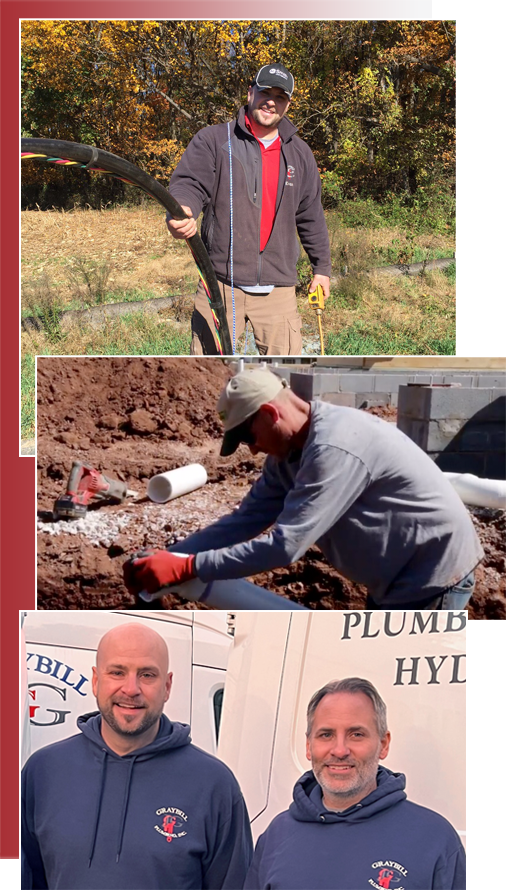 Your Choice for New Plumbing Installations & Professional Maintenance
Over 30 Years of Experience - 2nd Generation Business
---
Our gratitude to customers is reflected in our exceptional workmanship, as we continue the legacy initiated by our father's 25 years of service for E.G. Stoltzfus Homes. Since branching out in 2000, our unwavering moral character and dedication to doing things right have driven our service to the community with grace and expertise.
Honoring Tradition
For over 15 years, J.G. Graybill Plumbing, Inc. has embodied the essence of quality workmanship, upholding the values instilled in us by our late father, Larry N. Graybill. With education from Shippensburg's John L. Grove College of Business, extensive field experience, and a commitment to integrity, we proudly serve Lancaster County and Chester County, PA, and the surrounding areas.
Company Core Values
As a family, we are honored to provide outstanding workmanship while also prioritizing our own families, local organizations, and church community. We recognize the blessings bestowed upon us and extend a heartfelt thank you to all who have supported us throughout the years. Our commitment to excellence remains steadfast as we look forward to serving you and your plumbing and HVAC needs.
Request Service Today
Schedule a Free Estimate From Graybill Service Group Today!
---
We invite you to schedule a complimentary estimate today and experience firsthand our commitment to excellence. Our team of highly skilled technicians is dedicated to providing dependable solutions tailored to your specific requirements. Whether it's a small repair, a major installation, or ongoing maintenance, we are committed to exceeding your expectations. With over 25 years of collective industry experience, we have built a reputation for delivering reliable, efficient, and long-lasting results.
When you choose Graybill Service Group, you can expect nothing less than exceptional service from start to finish. We take the time to understand your needs and offer customized solutions that fit your budget and preferences. By scheduling a free estimate with us, you gain peace of mind knowing that our experts will thoroughly assess your needs and provide transparent and competitive pricing options upfront.
Let us show you why we are the trusted choice in the greater Lancaster and Chester County, PA area. We look forward to serving you with the highest level of professionalism, reliability, and customer satisfaction.
Why Choose Graybill Service Group?
When your plumbing or HVAC fails, every minute counts. Graybill Service Group genuinely cares about your family or business' safety and comfort. When you choose to work with us, we prioritize getting your repair, replacement, or maintenance done as soon as possible, with great attention to detail for lasting results and dependability.

Promptness
We show up when we say we will. No more living without your daily necessities due to technicians missing appointments. We get the job done on time, with minimal inconveniences to your home & family.

Quality
We make every effort to get the job done right, the first time. Avoid the frustration of repeat visits due to unprepared service technicians. Our team prides itself on quality, accuracy, and longevity.

Friendliness
The phrase "service with a smile" still holds its value at Graybill. The company culture we have created is one of family and community. That means we are happy to show up and help in a friendly and professional manner every time.